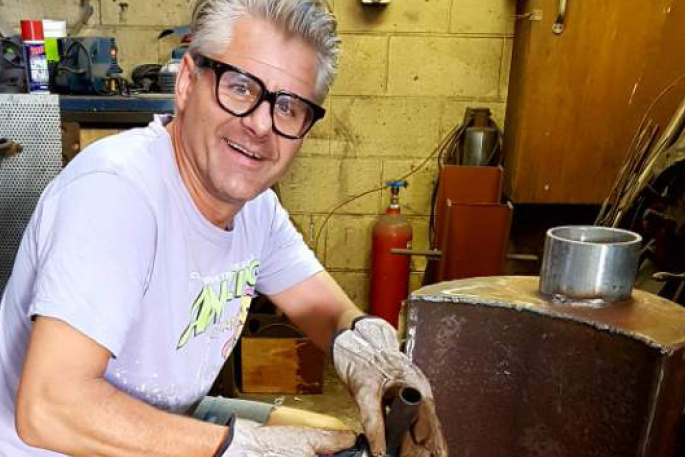 Tauranga builder and artist Hagen Lemmer has tapped into the Kiwi love affair with outdoor fires by creating one-off outdoor fireplaces, or braziers, made from scrap metal and other recycled materials.
"I build one fireplace and never build it again so the customer is getting a unique thing," says Hagen.
Most of the fireplaces double as outdoor grills - Hagen likes cooking food over wood and charcoal as opposed to gas himself - and these too are one-off designs. German-born Hagen is new to Tauranga, but it's his second time living in New Zealand. He owned two restaurants in Christchurch before the earthquake of February 2011 put paid to his Kiwi dream.
One restaurant was destroyed and the other red-zoned for two years so he returned to his native Germany and the building trade.
Hagen moved to Tauranga last year after his New Zealand-born daughter Eunice, 12, pleaded with her dad to return to the country of her birth. An old friend from Christchurch was living in Tauranga and Hagen was impressed with what he saw of it on the internet.
He started building the outdoor fireplaces in Germany, where they were a hit with his customers.
"In Germany I renovated old houses, castles and mansions so I was used to working with sandstone and steel. I'm also an artist - I paint pictures - so I thought I would combine the two."
Hagen is always keeping an eye out for pieces of metal he can fashion into a fireplace.
"I get some from scrap metal merchants and from farms, anywhere I see stuff I can use. I talk to people, get the stuff and turn it into something beautiful."
He doesn't always put his designs on paper first but has been known to leap out of bed in the middle of the night when an idea comes to mind.
"Sometimes I just find a piece of metal I like, put it in the ground, walk around it for awhile and start."
One of his recent pieces is made from the wheel of an old World War II truck, while another features a copper hood.
Hagen's work is largely sold by word of mouth. If you'd like to see some of his work, or talk to him about a design of your own, contact 022 027 7927 or email: hagen.alpha@icloud.com