But when his 17-year-old grandson Cole Gibbs requested a sleep-out, the vision morphed into something with a few more sides and angles to it.
Today, a small hexagonal cottage sits comfortably on the edge of a hillside embracing a relaxed view over Pahoia farmland and a snippet of State Highway 2.
The exterior is a taupe-coloured vinyl cladding with a wooden walkway winding tightly against the building and up to the doorway, offering enough deck space for an outdoor furniture set-up.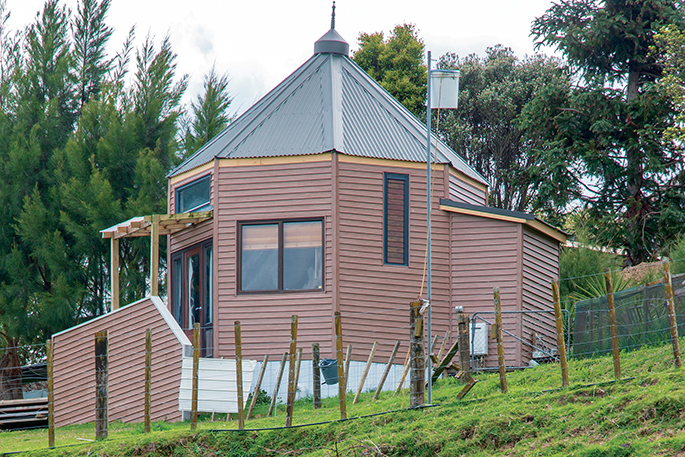 Inside, the first floor boasts a small kitchenette, a lounge in the centre, and doors to a toilet off to one side and a shower to the other.
A compact wooden staircase – also a find by Paul – has been fitted to wisp past the kitchenette and upstairs to a loft-like bedroom, complete with windows to let in light and farm views you can see with your head still on the pillow.
It is a compact abode but it is not cramped, and suits the lifestyle of Paul's grandson down to the ground.
Paul, who likes to spend time bargain-hunting and putting together ever-evolving projects, says the conservatory was originally attached to a house.
"At first I was going to put it together as a conservatory again, or a roofed pergola maybe for a spa," says Paul.
"When my grandson asked for a sleep-out I chose to use the roof only, and this gave me the hexagonal shape to work with."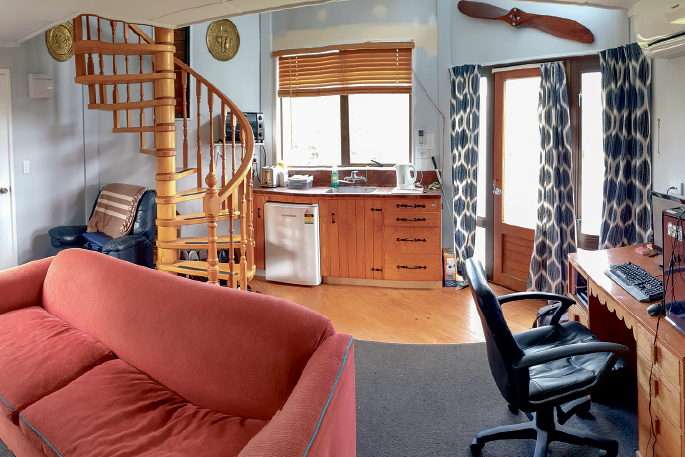 Paul built the walls himself, and says it was quite difficult to build. "All of the angles, and working them out, was the hardest part," admits Paul, who took "three days under a year, on-and-off between work" to complete the abode.
"I built it from scratch. I haven't done anything like this before. The only thing I didn't do was the electrical work."
Initially, the cottage was to be one level. "Then I thought 'well, it's not going to be very big when you have a bed in here', so I thought I'd make it a big higher and utilise the space."
The sleep-out is 5.5 metres across and about six metres to the top cap. The staircase was a secondhand deal from New Plymouth, via Trade Me. "And I found this kitchen sink and draw unit over at the Mount."
"A guy I bought vinyl cladding off for my Welcome Bay house had this taupe colour and couldn't sell it. So he rang and asked if I'd take it and it worked out good for the exterior."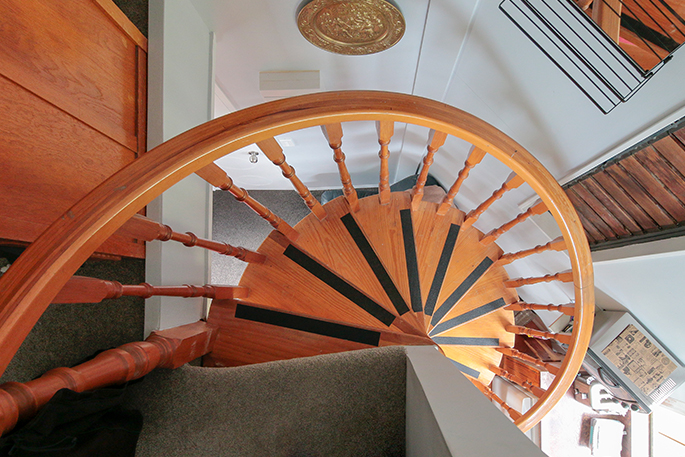 Paul loves his projects – he's even built his wife Marleen a small self-contained sewing room. "I'll try anything out, and this has worked out well," says the handyman. "My grandson is happy with it.
"He's got a good view and it has a little deck." The only thing left to complete is painting the shower, and a patch above the kitchenette.