Capturing images of mostly nature and scenery on her iPhone, and turning them into mesmerising pieces using apps, the results have enthralled her social media followers, friends and family.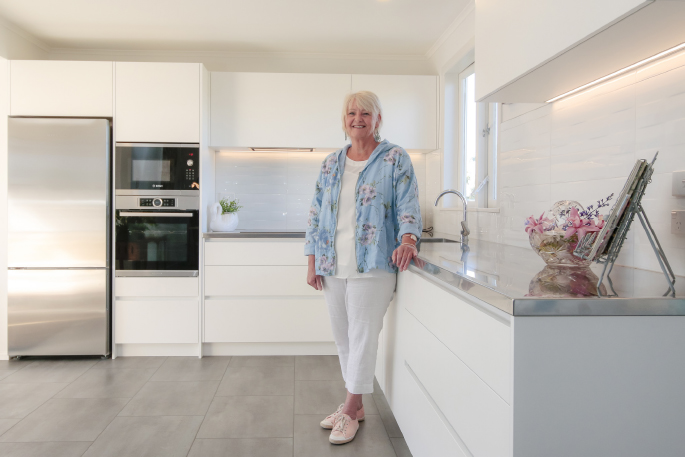 When it came time to renovate her Mount Maunganui kitchen, her natural 'go-to' place for creative ideas was, understandably, Google and Pinterest.
"I'm just an ordinary person on Ranch Road who has never had a new kitchen before," says Cate. "To see the many options and quantity available now is mind-boggling. Where do I start, and what will I end up with, doing it on my own? I decided to use Pinterest on my iPhone and help from professionals along the way.
"Originally, I wanted it all open plan because we do a lot of entertaining with family and friends. We have two decks and I wanted them to flow off the room. The back deck we use mostly in winter. In the summer we use the front covered deck because it's cooler."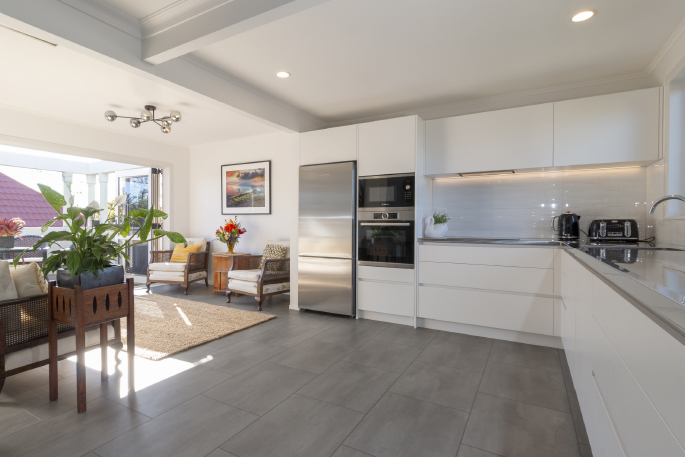 No pantry
"I hummed and hawed over the original peninsula kitchen layout concept – but realised it was going to divide the room, cut up the space and limit my options. Having it so open meant I would lose space for a pantry. I said: 'I can live without a pantry. If I need one I can buy a dresser to put in the corner'.
"I felt I needed that open flow-through space for the big gatherings I have. We got rid of the peninsula idea and the plans came back $4000 cheaper by not having a pantry."
Initially, she felt hesitant about her colour choices.
"I'm nervous," says Cate at the start of the renovation. "I wanted an ultramodern-looking kitchen, but how will that work with my old oak furniture? Oak is in fashion, so I knew somehow I could make this ultra-white kitchen and my old furniture work."
With the kitchen cabinetry underway with Six by One Cabinetry, she thought perhaps a splashback would link the various elements of old and new, and went to visit a local tile shop.
"When you've had absolutely no experience whatsoever, you're starting from scratch," says Cate. "You go into a shop and all you see are tiles all over a wall. You talk to an assistant and they bring you just one tile out and ask 'what do you think of this?' You ask to see them en masse but they say it's the only sample they have. You ask if they can show it to you on someone's wall, but they can't, and instead bring a scrapbook which has cellophane over it and horrible-looking photos. You're supposed to get a vision from that, and make a decision."
She decided to do her own research to visualise how the tiles would look.
"I researched on Pinterest to see different looks and textures. I think tile shops could follow up more with customers, and present photos in a way that shows the tiles en masse. You can't make a decision from one tile."
She amusingly recounts some of her tile shop journey.
"One tile shop told me: 'Oh I've just done this multi-million-dollar house in Fiji and this tile is on the floor' and I was like 'I just want a splashback'. She was trying to sell my something I didn't even ask about.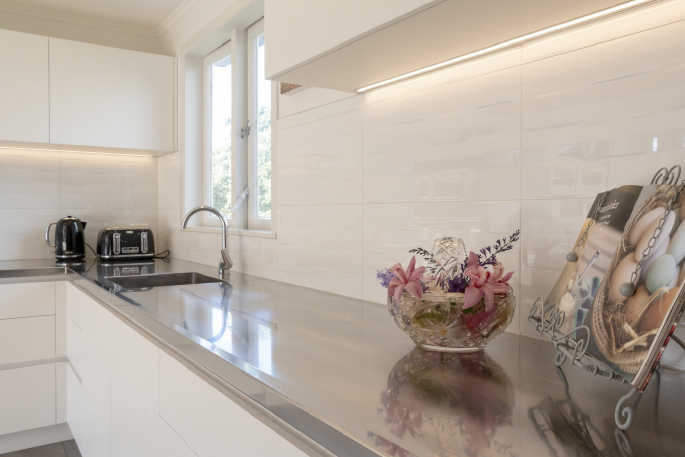 Tile trials
"An interior designer, who was visiting a tile shop at the same time, overheard me asking and pointed to a tile, saying: 'It's a no brainer, it's that one". And it was nice, it was white with a lovely antique-looking edge but I thought: 'No it's not really me'. My kitchen is white with grey so the tile needs to be a bit blingy. But I needed to be careful because I can be a bit over the top.
"I found a tile on Pinterest that has an old world look but it's modern and glossy. I went in to Tile Depot, and explained to the shop assistant what I wanted. She really listened and I found she was on the same wavelength before I even showed her the tile. And she showed me the exact tile.
"She knew what I was trying to do, and said that pewter gold colour will pick up whatever's in the room. If you put red with it, it will throw a red. She said it will work with my wood and white and stainless. And she was bang on.
"Her ideas about a textured tile was right, but then we were challenged by import delays so she found an equally perfect tile which works with the cabinetry."
Happy with that choice, she went on to choose new appliances from Appliance Plus and artwork for the kitchen. There were new lighting fixtures sourced from Lighting Direct, flooring from Gerrards Flooring; and the electrical and plumbing work completed by Act Electrical and Bell Plumbing.
Cate used various iPhone apps, softening some photographed images and rendering them in muted blues and greys; and also creating other more colourful images.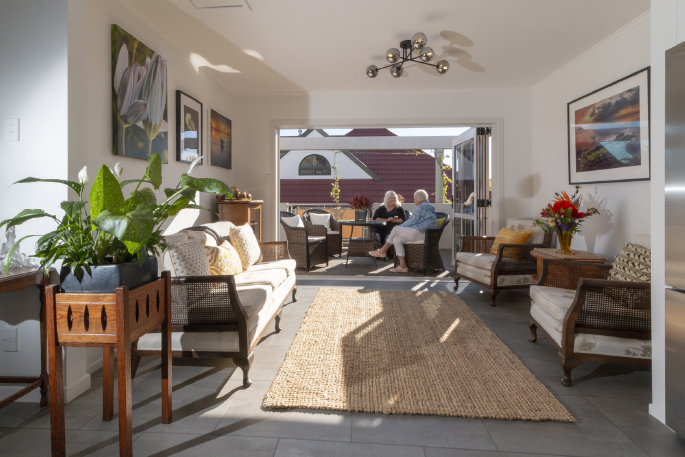 Vision realised
She's thrilled with the final result, with the transformed kitchen space now opened up, providing a flow-through entertainment area.
"What I love most about this kitchen is that my vision is exactly what has been rendered. The key thing was to bring together the old and the new. I wanted to have a modern kitchen but not get rid of my old furniture. And what I imagined has come to be reality."
She's now working on a garden concept plan.