From the French newspaper wallpaper, to the ornate rosewood sideboard with recycled basin, to the brass taps and light fittings, it looks and feels like you've been transported to Victorian England.
The bathroom is the first room in the Pearsons' 1880s villa to be fully renovated, mainly due to necessity.
"We did a quick reno on the kids' rooms to make them liveable," says Saasha, "because the house had been burnt previously and it was quite scary.
"The bathroom was the worst room though, because it had chipboard on the floor and there were holes in it. We were worried we were going to go through the floor!"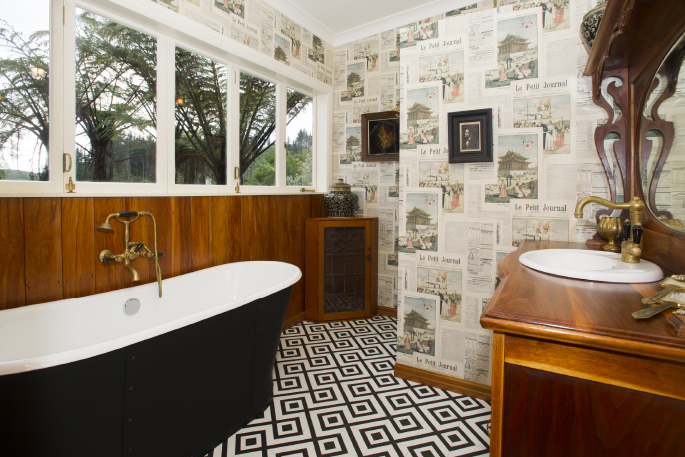 Sasaha got her inspiration for the bathroom design from Pinterest and Google, and she also joined an American historic homes Facebook group.
"I started with the brass taps. I didn't want anything stainless steel. They sat in a box for a year before I got started because I couldn't afford to do the rest."
The tarnished brassware in the bathroom includes the bath and basin taps, the rose shower head, ornate shower grate, window latches and pendant lights.
Most of the renovation work has been done by Saasha and Damian – he the building and she the finishing – except the subway shower tiling, which was done by a professional tiler. Their family have also chipped in.
"It's been months and months of work," she says. "We both work full-time, so the work has been done simply when we could."
The uneven floor was the hardest job, says Saasha, and, in fact, nothing in the room is square.
"Everything looks amazing, but it's all really crooked. I love the quirkiness and that it's not perfect."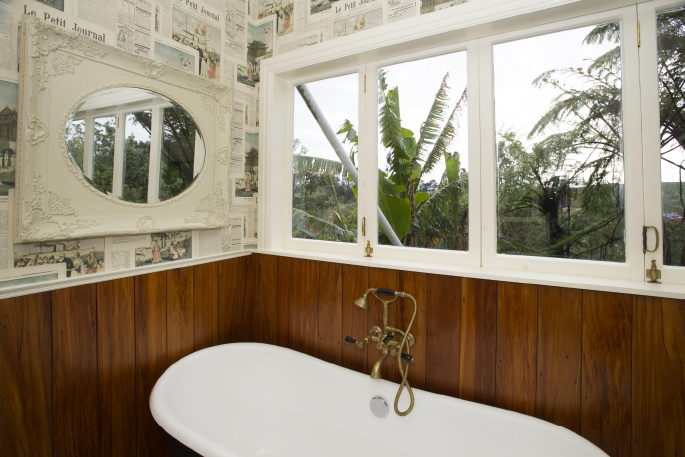 Recycled rimu floorboards, sanded back and polished, were used to make the wall panels, skirting boards and light switch housing.
The bathroom also includes a Victorian-style free-standing bath and is finished with small touches, such as a Victorian vanity set, mirrors, ceramic pots and brass knick-knacks that Saasha pulled together from other parts of the house.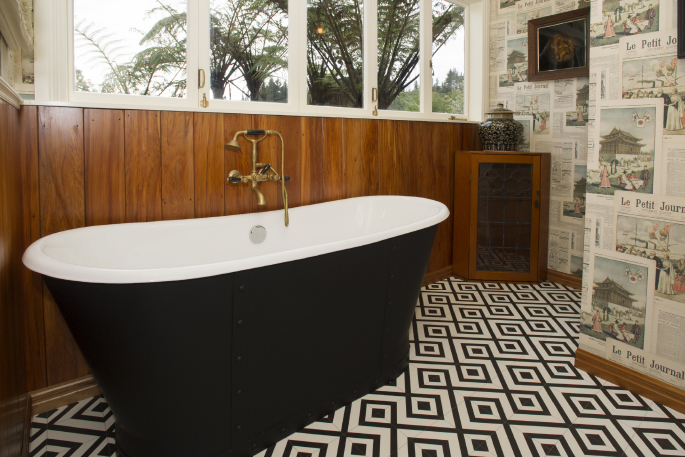 An ornate timber and glass corner cabinet and framed Victorian prints also add character.
"I didn't really buy any of it for the bathroom. I just went through the house and picked out pieces that worked."
Although the bathroom looks Victorian-era, it is all perfectly modern and functional.
"We've got two teenaged girls, so it has to be," laughs Saasha.
And as for that floor. Now even and covered in a stylish black and white lino, there's no chance of falling through it.