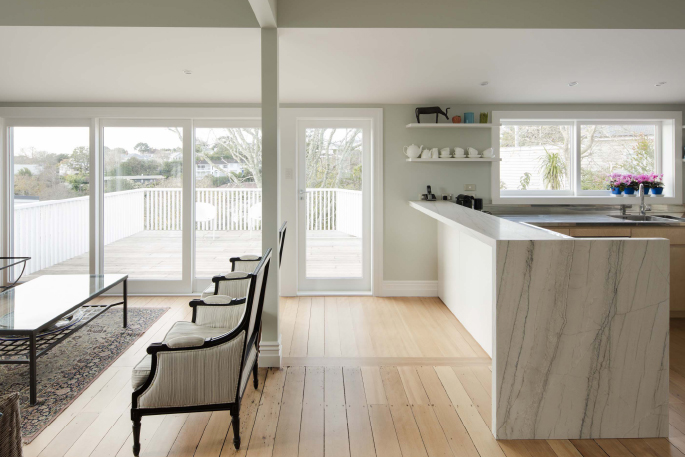 After all, we're frequently told that smaller rooms should be painted with light colours. But Resene colour consultant Nikki Morris says you needn't be afraid of embracing either.

"No matter what colour you choose, there are several design concepts that can make your room appear visually bigger."

Using colours with a high light reflectance value, for example, can help reflect and bounce the natural light around the space and give it the illusion of being larger, brighter and more spacious, she says.

While white might be the ultimate space creator, certain colours and colour combinations can fool the eye and make interiors seem much more spacious than they are.

Pale blues and greens create a calming atmosphere that simultaneously enlarge and brighten a space. They also combine well with other colours.

Combinations like creams and icy blues are some of the best for making a space appear bigger. Try creamy shades like Resene Eighth Thorndon Cream, Resene Quarter Pearl Lusta and Resene Rice Cake alongside icy blues such as Resene Breathless and Resene Cut Glass. Sea-foam greens are equally versatile and work well with creams, yellows and greys.

Soft tones of yellow can also create a feeling of space, but don't go too bright or too dark. Lemon and creamy yellows work best (think Resene Gin Fizz).

Darker shades can work well in smaller spaces too, says Nikki, but stick to neutral darks like blacks, charcoals, navy blues, chocolate browns and plums. Reds, greens and mid-tone blues can call too much attention to the walls, making a room feel smaller.

"Bold and brighter colours work best as accents or small statements," says Nikki. But she does encourage people to consider dark hues.

"Embrace that the space is small and go darker with a bold statement wall or room for a cocooning and moody vibe and use some brighter and happier colours as accents," she says.

"Blankets, artwork, rugs, couches, etc, could all be in similar colour tones or families but with textural differences, and then use cushions, lamps and candles for colour pops in bright colours."

Glossy surfaces, which reflect light, are ideal for small rooms, particularly when using darker paint colours.

"Use a higher gloss Resene Enamacryl finish on darker elements such as kitchen cabinetry, built-in shelving and fireplace surrounds, but keep the walls in a low sheen finish to offset the gloss differences."

For small homes and apartments you could utilise two to three Resene paint colours, says Nikki: "Two lighter shades and one darker accent colour to keep the space feeling airy but anchored with a darker statement for interest."

Another trick to visually expand a space is to paint the walls and trims the same colour. Where there are no breaks in the trim, your ceilings will appear taller.

As well, place your curtain rods close to the ceiling to make it look higher, and extend the rod about 10cm on either side of the window to make the window look bigger and allow more light into the room, which opens it up.

If there is not a lot of natural light in the room, add more lighting fixtures.

Mirrors can also help reflect both natural and artificial light. Placing a mirror near a window to reflect the outdoors is especially effective at visually expanding a room. Or angle a mirror towards a certain area or focal point to give the illusion of more space. Mirrored wardrobe doors or cabinets are perfect for small spaces, as are glass tables and acrylic chairs, which open up a space.

Sofas and armchairs with open or no arms and exposed legs allow light to filter under the furniture, which, again, makes a space appear larger.

A monochromatic colour scheme works extremely well in small spaces too – it allows the eye to move easily around the room without obvious interruption by other colours. This can alter your perception of dimension and can make an interior seem more spacious.

"Use subtle contrasting colour to define the areas within an open plan space," says Nikki. "Use the same Resene colour family in varying strengths for different areas."

The Resene whites and neutrals collection has up to six strength variations of each colour so you can easily combine lighter and darker options.

Various textures can also help enhance the single-colour scheme.

Or consider stripes, which can help alter the perception of space. Just picture the way horizontal stripes make a person appear bigger. The same goes for rooms. Horizontal stripes visually widen a narrow room, while vertical stripes make a low ceiling seem taller.

In a small space, where everything counts, clutter should be hidden away. Too many knick-knacks and pieces of furniture can make it seem like the room is closing in on you. Keep tabletops clear and use multifunctional furniture, such as ottomans that double as coffee tables and extra seating as well as provide hidden storage.

If you are lucky enough to have a high stud height, use that height for storage. Alternatively, floating shelves are ideal when there is no room for storage, or no floor space.

Keep window treatments to a minimum. Small rooms can become overwhelmed with billowing curtains or drapes with lots of pattern. Pick simple window treatments that let in as much light as possible. A window treatment that is the same colour as the walls will blend in and open up the space.

And opt for dining tables that can be made smaller – like a drop-leaf table, or an extendable one.

When it comes to decorating small spaces, design trickery is your best friend. Clever design and slick paint colours play a big part in creating the illusion of space.

Choose the right colours – light or dark – and you'll go a long way to ensuring your home, however small, feels light and airy and spacious.

Happy decorating!