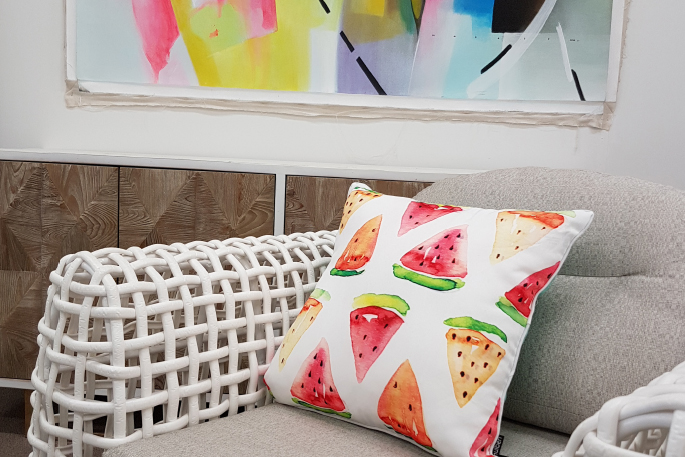 From dealing every day with people who are building, renovating, and redecorating there is a strong pattern appearing: black and white and all the shades they make when mixed.
Black and white does make a striking statement and saves the challenge of colour.
When asking customers what colour they've got in their space, they often have none.
To play it safe and take the easy road, avoiding colour is so tempting. You don't need help as you can't create clashes.
The minute you add colour you then are challenged with where, how much, and what to apply it to.
The furniture, carpet, tiles, window treatments, walls, rugs, ornaments or art can be part of the bold attempt.
Carpet today is very limited to non-intrusive colour choices so it will allow colour to pop if introduced. Being a more long-life and expensive item to replace if you grow tired of it, it is possibly not the place for colour.
The walls can be anything in colour, so should be the last part of the plan. Ask yourself what will be the most obvious thing when entering a room. Is it the view, the large art work, the fabric chair, or anything else you want to have prominence? To begin your design with a focal point makes planning the simplest.
If colour happens once, it struggles to work. Twice, it's got balance; three times, slow down.
It's a simple rule but it works. Nature mixes all colours perfectly, showing all shades and strengths do work together.
There are no two colours that don't work with each other – it's all about balance. The colour wheel is an excellent tool to understanding colour, but so often not used.
If you have a home that is black and white and want to bring colour into the inside and out, it is not too late. Large art pieces can provide colour, allowing you to mix and balance with cushions, throws, rugs, flowers and accessories.
Trying to mix favourite colours without matching will create a more natural blend. A good look is often good mixing. When you match up you can sometimes muck up.
The Waikato Interior Design awards this year was called colour celebration. This was a test in exploring and showing the public how designers can use colour to create an exciting colourful space.
The best plan in home-making is to have a complete plan, not a stumbling approach. Scale drawings and placement of everything in place, including the colours, will mean less loss cost and a happy, finished home.

Grant Furniss, Contemporary Classics